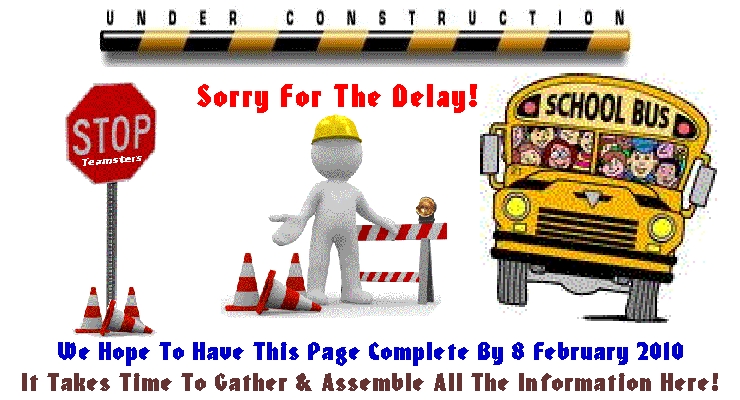 ---
It was taking too long to populate each page, then update the navigation bar for the pages added, so we are asking you to bear with us as we add pages to the primary categories in the navigation bar above. We are working as fast as we can so you don't have to see this page every time you click a link. This project is being completed between bus routes, field trips, safety & training meetings, and daily personal business. The time spent working on this project is completely volunteer and we are not being compensated in any form by First Student or the Grants Pass Branch of First Student for time spent, or content included.
There had been previous interest expressed in purchasing the "Stop The Teamsters Dot-Com" Tee-Shirts that we had printed in a limited run (4 shirts total) indicating our position on union representation at the Grants Pass Branch. Sorry to say, this is a "Political Action Web Site" not a "Commerce Web Site" and we decided it was not in our best interests to offer items for sale either "At Cost" or "For Profit" within it. However, if you wish to use our graphics to print your own Tee-Shirts, we welcome the gesture!
If you're wondering how you can help us get the word out, or assist us financially, the answer is simple. First off, we can't really accept any monetary donations as we aren't doing this to make money, we're doing it to hopefully reverse what we believe to be an uniformed decision to bring the Teamsters International into our work place. If you feel the need to donate something, perhaps you could provide copy paper, envelopes, postage, for future mailings, or volunteer to assist us in getting information out to our drivers at times we deem necessary.
As for help with web site content, we are looking for your comments or concerns (which will be the next two (2) pages added to this site, and if you are willing to have your name added to the list for all to view to show you support our view on Teamster representation, that would be the greatest help of all.
If you wish to assist with the latter, please contact myself, Chip or Ernie in person as I need to verify that all content on this web site is actually being provided by the person who's name is attached to it. There will be an e-mail address for you to send your comments, concerns, or support to soon, but we will still require personal verification of submission prior to posting.
We would like to thank everyone who has supported our efforts, and we are doing what we can to get the balance of this web site built out. Thank You!